Headquartered in Billings, Montana, The Waggoners Trucking supplies Specialized Flatbed service to customers in the United States and Canada with full truckload service, dedicated LTL routes, hot shot service, as well as, specialized equipment (auto transport) servicing the medium and heavy duty trucking transportation industry.
 Specialized Flatbed Service
Whether You Need:
Full Truckload Service
Less Than Truckload Service
Hot Shot Service
Overweight & Over Dimensional Service
Waggoners Trucking has you covered!
We've successfully combined the most advanced fleet and the most qualified professional drivers to assure ultimate customer satisfaction. Our perfected regular routes and schedules provide for guaranteed on-time pick-up and delivery of your cargo from the Western and Southern United States north to Canada and back.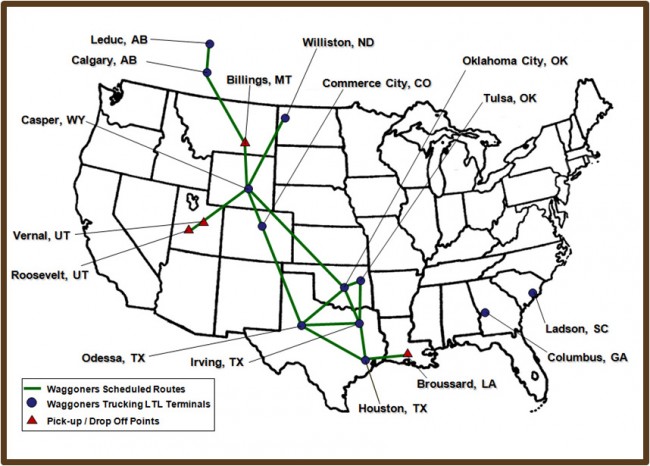 The Waggoners' Advantages:
Single Carrier Responsibility
A fleet of almost 300 specialized, late model trucks with professional Drivers trained to handle your freight properly, getting it there safely without damage
Reliable Team-Driver Service across North America for your time sensitive transportation needs
Complete Hazardous Materials Transportation Capabilities
Approved and Customs Bonded
The Waggoners Trucking Specialized Flatbed Division is comprised of experienced solo drivers, team drivers, and owner operators – some of which have been with the division since its inception. These professional drivers know how to handle your load efficiently and quickly. Waggoners' drivers are also certified and fully trained in handling and care of hazardous materials, including explosives.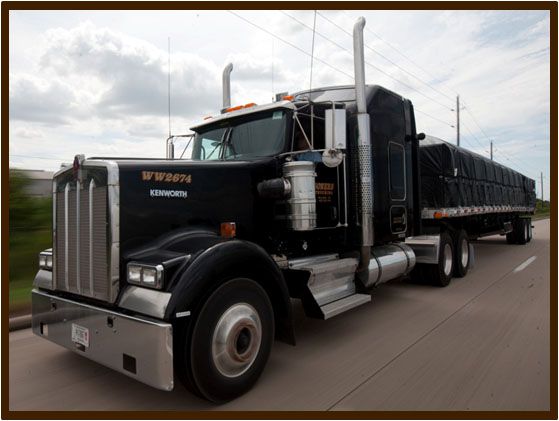 Standard features of every LTL unit include air-ride suspensions, fully enclosed flatbed trailers, and satellite tracking and communication systems allowing us to monitor your shipment, and remain flexible to your delivery needs, any time of the day or night. And, to make your job easier, our experienced staff is trained to handle all customs work for international shipments, as well as, hazardous material transportation and related documentation.
Truck Transport Service
Since 2010, The Waggoners Trucking has served Mercedes Benz as the primary truck-away carrier of finished Sprinter vans and chassis from its manufacturing plant in Ladson, SC. From Ladson, Waggoners Trucking delivers to upfitters and dealer destinations across 2/3 of the United States, employing over 70 drivers and support staff for this operation.