Waggoners Trucking is looking for Company Drivers to Join our Ladson, SC Team
Apply Online Here and Reserve Your Seat Today!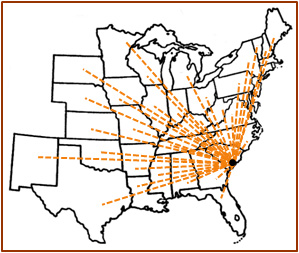 We deliver Sprinter Vans from Ladson, SC to dealer destinations across 2/3 of the United States!
Our Company Drivers enjoy excellent earning potential:
Average over $60,000 per year
Top Drivers over $70,000 per year
Compensation Package
Per Vehicle Per Rated Mile Pay
Cab & Chassis:                     28¢ per mile
144 Van:                                28¢ per mile
170 Van:                                31¢ per mile
170XL Van & Box Trucks:   35¢ per mile
Load & Unload Pay                  $11.00 per unit
Stop Pay                                     $12.00 per stop

Weekly Settlements
Easy Ground Level Loading & Securement
Generous Bonuses and Incentive
Vacation and Longevity
Equipment Incentives
Accident and Damage-Free Bonuses
Fuel Economy Bonuses
"Extra-Miles" Bonuses
Holiday Pay
Comprehensive Benefits Package
Health, Dental, Prescription Drug, Vision
401K With Company Match
Company Paid Short Term Disability
Company Paid Life Insurance
Apply Online Here or Call our North American Recruiting Center at 864-764-1911.
If you would rather print and complete a paper application, download one here.